Working alongside the craftsmen who helped us restore our Victorian workshop, Workhouse was born out of a renewed appreciation for the hidden beauty in old things. Drawn to images of the Victorian street, we became particularly interested in unposed photographs of street traders and musicians. Whether a distinctive jacket, or a favorite hat, the garments and images where hand made, made to last – and often made for someone else. Formal worn informally, old with new, contrasting fabrics and textures – all with a certain swagger. We wanted to craft garments that captured this.
Specialising in sartorial tailoring using British cloth, we have been making clothes for over twenty years. At the root of a Workhouse garment is the time and expertise that has been taken to master its fit. Trained at Huntsman on Savile Row, our pattern cutter come to the studio; we relish this process, exploring which methods work for a particular design, how best to combine traditional methods and new.
Workhouse prizes sustainability and building local supply chains that sit outside the traditional model. More than just a business, we strive to forge relationships with the like minded individuals, and believe that such commitments are what make our garments unique.
Visitors to our studio in Bury St Edmunds, Suffolk are very welcome.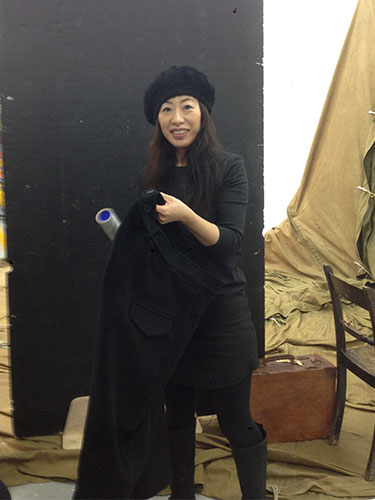 Set in a converted 18th Century Victorian Slaughterhouse we run a fully functioning workshop which house our vast collection of patterns that have been expertly designed and cared for by our skilled local workers.
In the center of Town stood among a handful of houses down a quiet road an old Victorian Slaughterhouse rests in a state of dilapidation. In 2004 we were offered the chance of purchase this enchanted old ruin and course we could not refuse. After 18 months of meticulous restoration – each brick scrubbed and re-set each board freshly painted ( not forgetting a socket or two for tea making purposes )  We were able to call it home.
Six months latter Workhouse was born.
Contained within the walls of the workshop are a collection of vintage sewing machines and assorted vintage tools such as shears.
We also have in house dyeing and printing facilities where we can often be found experimenting with indigo and other mediums.
We are proud of our unique facilities which we feel allow for the design and creation of garments truly special and British. We welcome visitors who wish to gain insight into a working fashion environment.
We welcome visitors to the studio / showroom where you
can try on and feel the fit of each garment.
Please contact us to arrange an appointment.
I have bought a 1937 Fiat Topolino from a Car collector in Scunthorpe, an Industrial town in Lincolnshire, England. Bought through word of mouth.
I will keep a blog on the repair work and then the future of the car as one day I would like to race it in the Mille Miglia in Italy.